The Osteria at Domenico Winery is a playful eatery and bar, drawing inspiration from an aspiring post-war Italy, where street cafes were brimming with life and passion. Keeping up with the tradition of Italian Osterie, we offer timeless fare like cicchetti (small plates), pizza, casual bites, wine, and espresso. We also have to-go bites like sandwiches and panini for those on their lunch break. Join us for a wine tasting, small bites, lunch, or dinner five days a week.
Walk-ins welcome. Reservations are not required, but groups of 7 or more are encouraged to give us a call in order to guarantee space.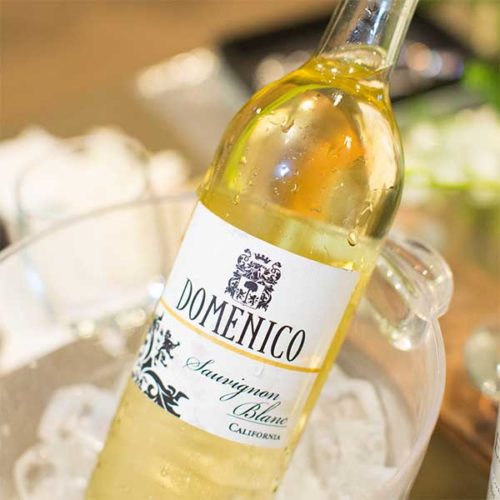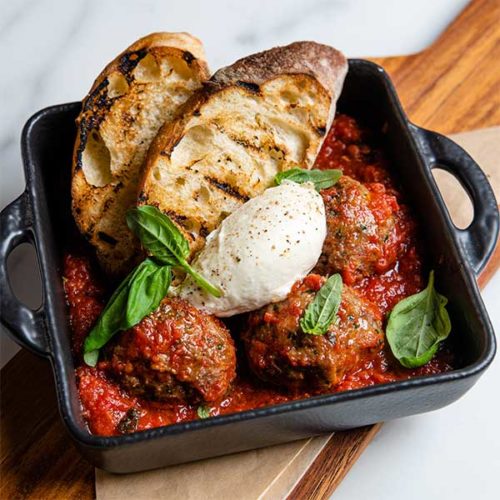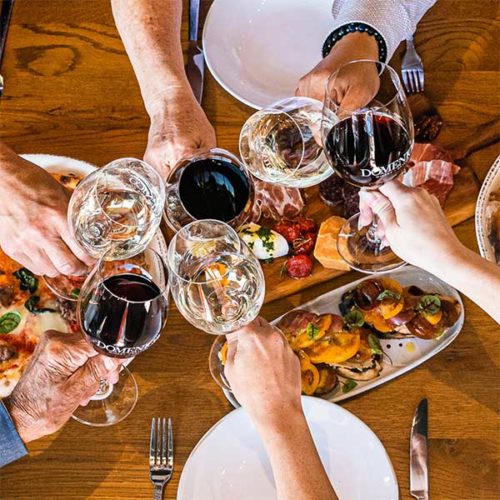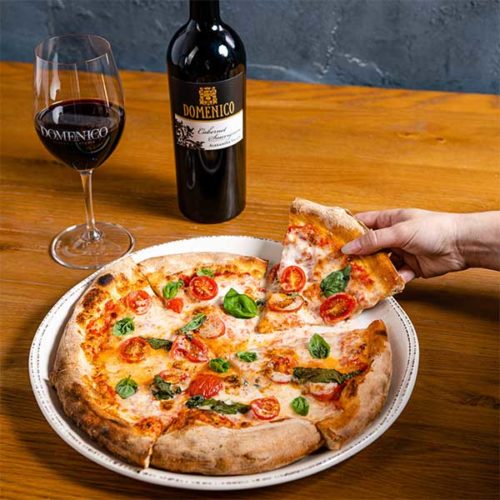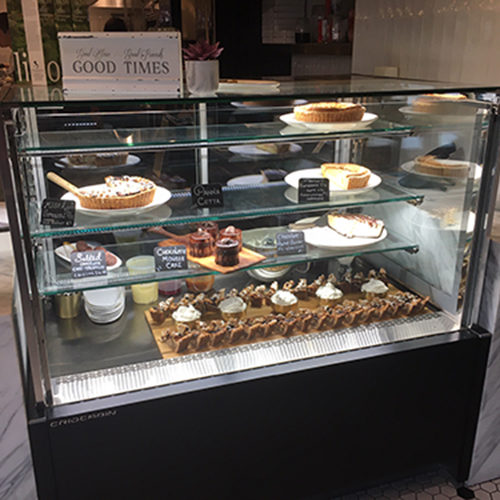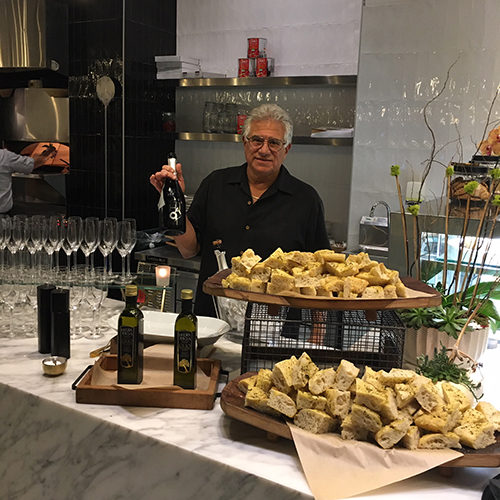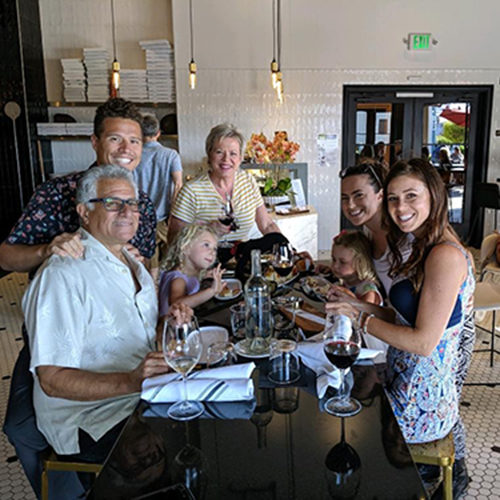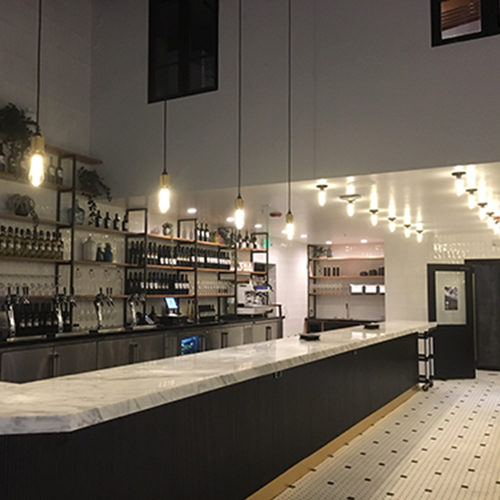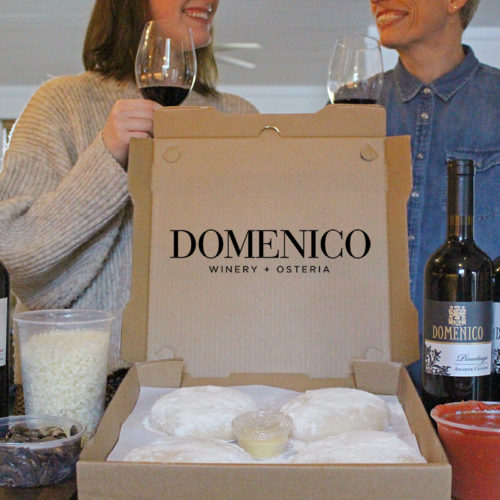 The Space
Set against a black and white interior that evokes the spirit of 1950's Italy, the Osteria features an open view kitchen, burnished concrete walls, and Calacatta marble wine bar, conjuring feelings of nostalgia lifted from an Italian postcard. This bright eatery, where vintage style meets contemporary spirit, sits apart from the rest with its simple sophistication and old fashioned character. We are a counter-service restaurant, so please stop by the cashier to order your food before taking a seat. If you're visiting us for a wine tasting, to buy bottles, to become a VIP Wine Club member, or to make a Wine Club pickup, you can head straight to the wine bar.
The Menu
The inspiration for our restaurant comes from the owners' (Dominick and Gloria Chirichillo) Italian heritage and an upbringing centered around family, food, and wine. After 15+ years of making wine at their San Carlos winery, the Chirichillos passion for food was reignited while touring the Italian countryside, spending afternoons sipping and dining in picturesque Osterie.
By using these memories as a guide, Dominick, has developed a menu based on what Osterie traditionally offered: clean, simple cuisine that utilizes local ingredients and showcases regional specialties as often as possible (all while complimenting the wine, of course). To do this, we have built relationships with some of the best farmers and purveyors in the Bay Area. We're blessed to be able to access some of the best ingredients in the nation with ease, and do not intend to take that for granted.
In addition to our larger plates, we are proud to offer an array of Cicchetti (also sometimes spelled "cichetti" or called "cicheti"), which are small snacks or side dishes, typically served in traditional osterie. Similar to Spanish tapas, you can enjoy a light meal of cichetti with a glass of wine, or choose to make a meal out of multiple plates. Cicchetti are generally enjoyed in social settings, with fingers or toothpicks, and can be eaten all day long. These small plates are usually accompanied by a small glass of local white wine, referred to as an "ombra" (shadow in Italian).
Our Wines
Domenico Winery is a family owned and operated boutique winery in San Carlos, CA, the heart of the SF Peninsula. We specialize in Cal-Italia and New World varietals, source grapes from all over northern California, grow Primitivo and Syrah in Amador County, and have been making award-winning wine for over 20 years. Visit here to learn about all of the wines we make.
Throughout Italy, there are many neighborhood wine cantinas where customers refill their bottles with local wines and bring it home for consumption. In similar spirit, Domenico Winery is now offering a new way to enjoy our wines on premise or at home through our environmentally-friendly Vino Locali wine refill program.
Purchase one of our resealable Bormioli Rocco Italian Glass Bottle and fill it with our rotating selection of wines on tap at a discounted rate. Enjoy your wine on or off premises, and bring the bottle back for refills as often as you like!
About the Wine Club
Domenico Winery offers three wine clubs for fans of Cal-Italia wines: Rosso è Rosso (Red & Red), Rosso è Bianco (Red & White), or Bianco è Bianco (White & White) in increments of 3, 6, or 9 bottles per quarterly shipment. Click here to learn more and sign up.
What is an Osteria?
An Osteria (pl. Osterie) is the most casual of the three main types of dining establishments in Italy. Throughout history, Osterie have molded themselves to be whatever the community needed them to be. For some, an Osteria is a spot to have a casual bite with a friend. For others, it could be a place to unwind with a glass of wine after work.  For many, the neighborhood Osteria is a go-to spot for lunch or dinner that they trust will always offer high quality food and wine in an approachable setting. In earlier times, an Osteria's menu was centered around wine – but in modern days the focus has shifted to a small, but rich food menu that emphasizes local specialties and ingredients. When you think of California's Farm to Table movement, it is clear how an Osteria can seamlessly merge with the modern diner's tastes and dining preferences.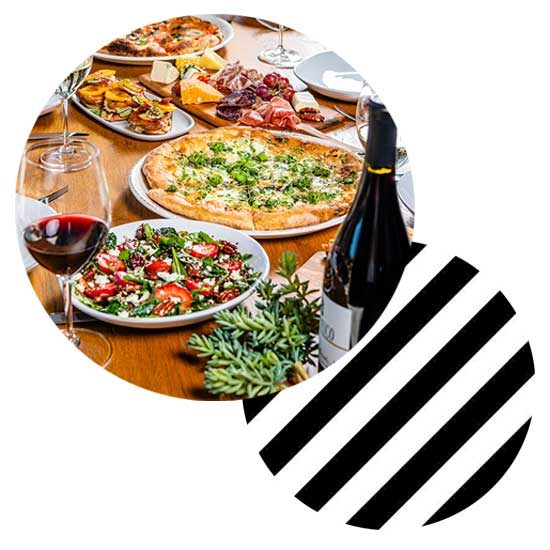 LIMITED

MENU

-

CURBSIDE

PICKUP

AND

DELIVERY
panini

| hot pressed or cold
red pies

|

san marzano tomato sauce
pastas

|

individual or 1/2 tray 
dolci

|

house-made desserts
15% Gratuity automatically added to the food to help our employees through these difficult times!
Curbside Pickup Only: Food + Wine
Credit Cards Only
ORDER ON LINE | ChowNow
DIY Pizza Making Kits
Each kit makes two (2) or four (4) – 12" pizzas.
Includes dough and toppings based on which kit you choose.
Comes with instructions for "How To Make A Pizza Without A Pizza Stone" Includes preparing your dough, topping, and baking in a home oven. What you'll need: Two (2) large sheet pans (1 pan = pizza stone & 1 pan = pizza peel) and Flour.
Optional: Parchment Paper, Semolina, Olive Oil, Grated Cheese, Salt, Red Pepper Flakes, Oregano.